We are still about a month away from the first day of summer! Yet, many of us are enjoying warmer temperatures and that means all those delicious fruits are heading to your local grocery! The one fruit I always look forward to are strawberries.
While you can get strawberries year round, I find that the most delicious strawberries start showing up in May! These 10 Fresh Fruit Recipes will help you get into the summer time spirit and are perfect for every occasion!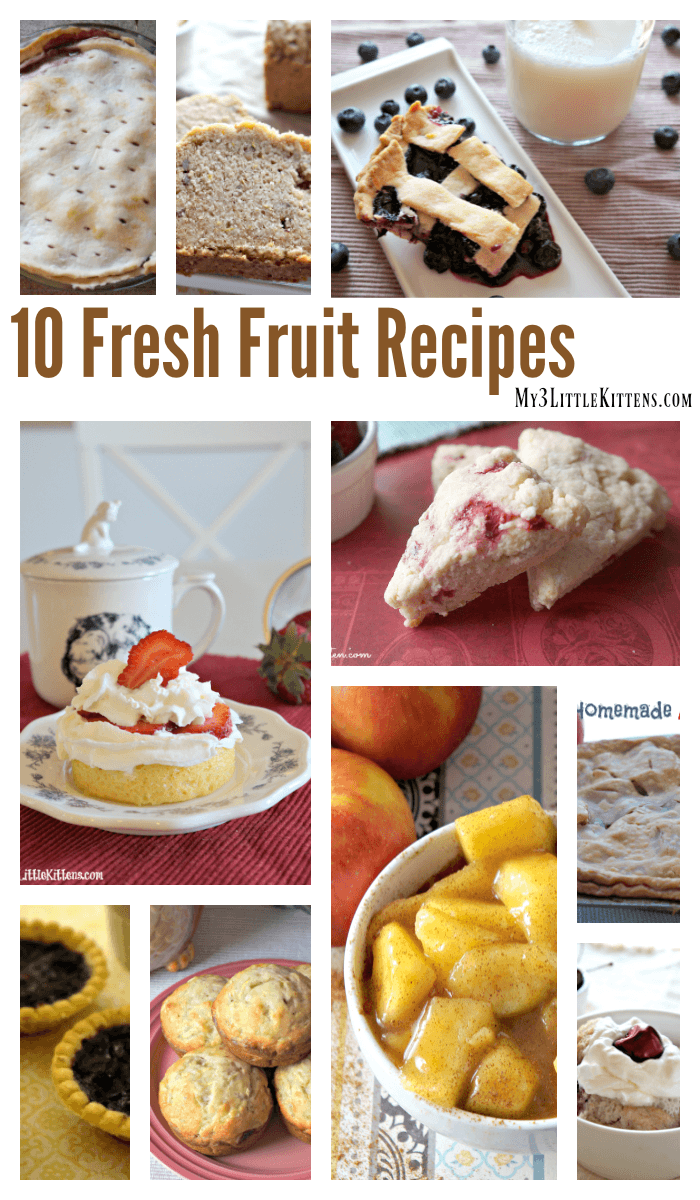 10 Fresh Fruit Recipes
Strawberries
Strawberry Petite Scones – These are beyond fabulous for afternoon tea or anytime!
Strawberry Shortcake – This shortcake is light, airy and delicious!
Blueberries
Blueberry Pie – You can never go wrong with a scrumptious blueberry pie!
Homemade Blueberry Tarts – These tarts couldn't be easier to make!
Cherries
Classic Cherry Pie – Having a classic cherry pie recipe on hand is a must. This pie does not disappoint!
Out of This World Cherry Cobbler – A cobbler perfect for those summertime cherries!
Bananas
Zucchini Banana Muffins – The combination of zucchini and banana makes these muffins really stand out.
Insanely Delicious Banana Bread – If there is one recipe I make more than any other, it is this one. My family and I can never seem to have enough delicious banana bread!
Apples
Sauteed Apples – When you are looking to enjoy something sweet, but also want something simple!
Homemade Apple Pie – Homemade Apple Pie is a staple in almost every home. This also is a perfect choice for dessert when you are having guests!
Make sure to check out More Fabulous Recipe Content!