I was first introduced to HEXBUG years ago. We purchased a couple of the original ones for my Son and he absolutely loved them. I even found that the cats would go nuts for them as well. After all, who doesn't love a little robot that behaves like a bug! That being said, they have really outdone themselves with HEXBUG Gladiators Battling Robots! The same great HEXBUG I remember, but better!
HEXBUG Gladiators Battling Robots
The first thing I will mention is that HEXBUG Gladiators can be purchased as singles, such as HEXBUG Gladiators Spartera. You can also purchase them as a set with the arena – HEXBUG Gladiators Battling Robots Arena. Both are reasonably priced and perfect for under the Christmas tree. Each robot comes with snap-on weaponry that you can mix and match. My youngest son had the most fun getting to change up the weaponry on each robot!
The battling started about 5 minutes after opening the box and as you can see, even my cats loved them. My son played with them for about an hour and then the cats tried to steal them away. The snap-on weaponry should be removed if you are going to give your cat some playtime with the HEXBUG, supervised of course!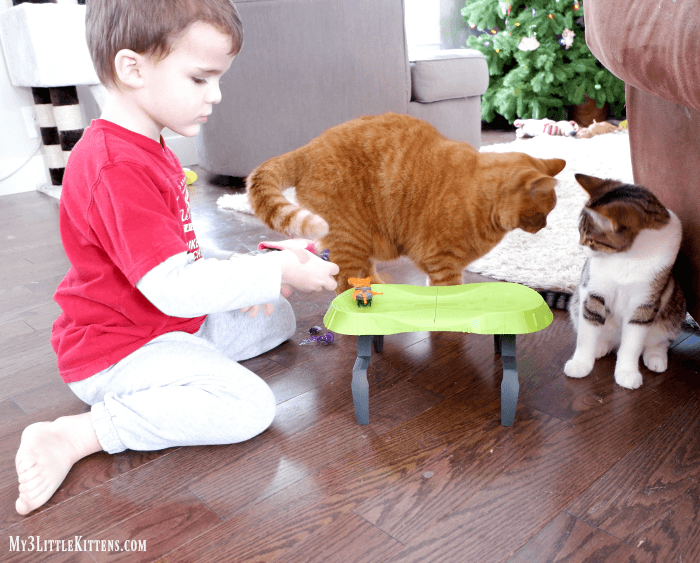 I will be reviewing more HEXBUG toys, so be on the lookout for that! With their size, HEXBUG also make a fabulous stocking stuffer from Santa!
Disclosure: This post is sponsored by HEXBUG. All opinions are honest and that of My 3 Little Kittens.